Bicycle safety becomes smart. The use of innovative technology, combined with the highest level of mechanical security, makes the 770A SmartX the safest bicycle lock in its class.
Enjoy the advantages of the innovative SmartX cylinder and make your iOS or Android smartphone your individual key. Combined with the proven 100 dB loud alarm, this lock offers the highest security for high-quality e-bikes and cargo bikes.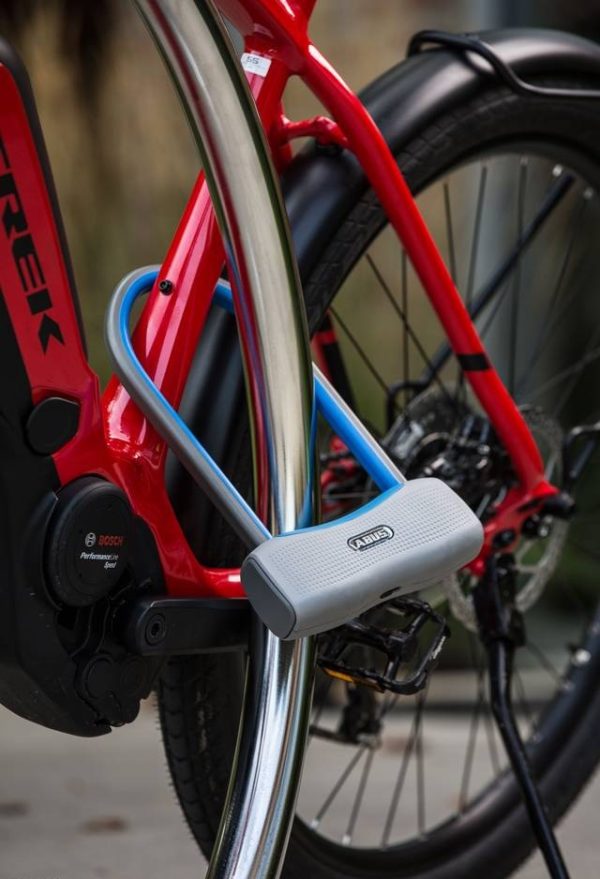 • SmartX locking system with Bluetooth function – high-quality, keyless locking system offers user-friendly operation
• Alarm function with at least 100 dB for 15 seconds, then automatic reactivation
• 3D position detection – detects vibrations and smallest movements in all three dimensions and triggers the alarm
• Intelligent alarm – In case of small and short shocks, e.g. from a football etc., the lock only emits a short warning tone.
• Records location of where bicycle was last locked up
• Abus Power Cell technology provides the highest level of protection against impact and access
• The bracket, the housing and the supporting parts of the locking mechanism are made of specially hardened steel
• USB C port
As E-Bikes become more popular and the average cost of a bicycle begins to rise, we need to take every measure possible to protect our two-wheeled investments. I got in touch with ABUS who were happy for me to review their 770a SmartX D lock.
Released in 2019, the 770a is ABUS' new smart bike lock and one of the first on the market from a reputable company.
The ABUS 770a SmartX is the best smart bike lock on the market to date. It's Sold Secure Gold rated, double bolted, impossible to pick (since it doesn't have a keyhole) and the app used to operate it is super user friendly.
Weighing 4.01lb (1.82kg) the SmartX is heavier than most bike locks out there.
However, its KLICKfix mounting system does a great job of holding this smart bike lock in place whilst you're on the move, meaning you won't notice its weight whilst cycling.
Suitable for use with E-bikes and traditional pushbikes, the SmartX uses a loud 100dB alarm to scare off thieves.
It also uses Bluetooth, keyless operation to operate its locking mechanism, so you'll no longer have to search for your keys before using your bike!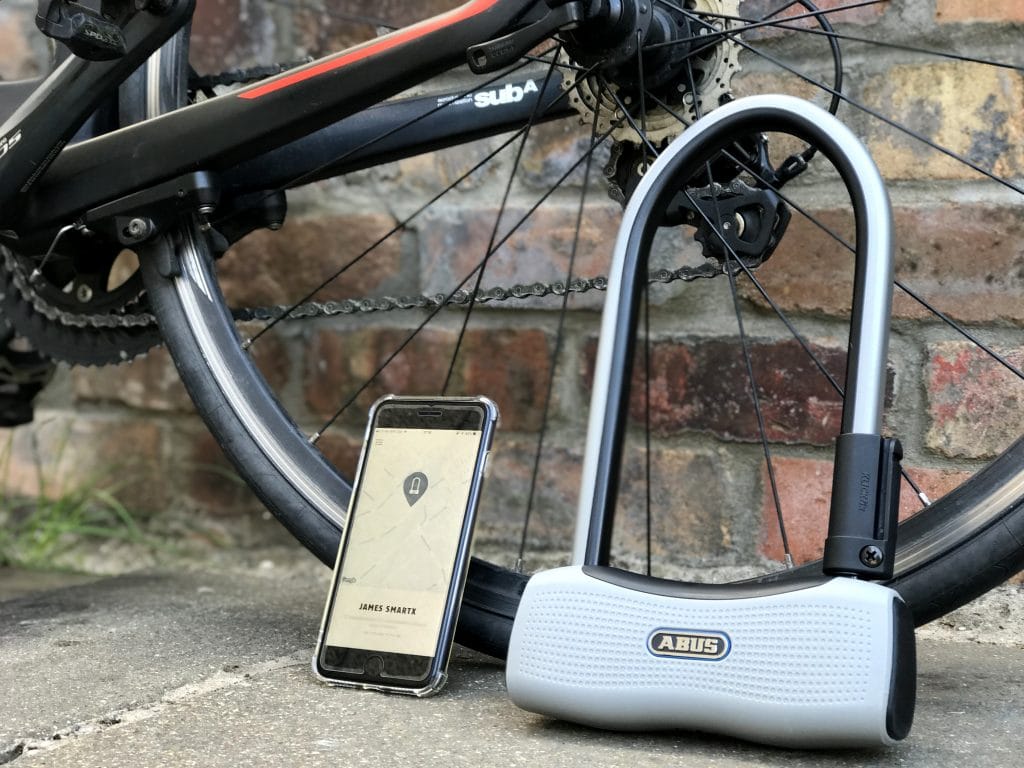 ABUS are leading the way with their pursuit of a smarter, tech-filled future. No other manufacturers are producing smart bike locks to the same standard as ABUS.
It's worth noting that the ABUS 770a SmartX is an upmarket bike lock and isn't the best option if you're shopping on a tight budget.
The ABUS 770a SmartX is one of the first Sold Secure Gold smart bike locks on the market, until the recent release of the Diamonds category, Sold Secure Gold was the highest bicycle rating achievable.
The Sold Secure Gold's description has now been slightly amended and means that the ABUS 770a SmartX offers "theft resistance against a higher selected tool list (aimed at preventing dedicated attacks)".
This rating, alongside ABUS' 15/15 maximum security rating suggests that the 770a SmartX provides a very respectable level of security.
The ABUS 770a SmartX's 13 mm hardened, square shaft, parabolic shackle isn't quite thick enough to be considered bolt cutter proof but provides a respectable level of protection from all forms of attack.
As I covered above, the 770a's shackle is double bolted, which means either end of the shackle is secured by the locking mechanism.
Double bolted shackles greatly add to the security that any bike lock offers and make them much harder to defeat with twist or hydraulic attacks.
Hydraulic attacks are where thieves use a strong object (e.g. crowbar or scaffold pole) to put your lock under tension, eventually prying it open.
The 770a SmartX's square shackle also offers excellent resistance from bolt cutters by placing more metal in the way of their jaws.
I'm yet to carry out a destruction test on this myself, but have heard from sources at ABUS that it can't be cropped by hand.
As soon as I've done my own destruction testing with the SmartX, I'll update this review with my findings.
Weighing 4.01lb (1.82kg) the 770a SmartX isn't the most lightweight bike lock on the market, but it's also not too heavy to carry whilst cycling.
The 770a easily fit into my small backpack, and it wasn't uncomfortable to ride with.
However, instead of riding with the 770a on your back, you'll be better off using the KLICKfix mounting system, which I'll cover in detail just below.
ABUS 770a SmartX mounted on bike with KLICKfix mounting system
The 770a's KLICKfix mounting system is easily one of the best I've used, I explain more about it below.
When you consider the amount of technology packed inside this D lock it's understandable that it weighs slightly more than even the best D Lock.
You should pay attention to a lock's dimensions when purchasing a new bike lock.
The SmartX's 13mm hardened steel shackle offers 4.25″ x 9.05″ (10.8cm x 23cm) of locking space to secure your bike's components. A reasonable size with enough room for multiple locking options.
Keep reading, and I'll teach you the most effective ways to lock your bike with the SmartX.
Unlike traditional bike locks, the ABUS 770a SmartX uses keyless locking. For some of you, this may sound scary and super high tech, but it only takes a few days to get used to.
If you find yourself scurrying around at the last minute, looking for your keys, in a rush not to be late for work, then keyless locking is the solution for you.
To operate the 770a, you need to download the SmartX app from the Google Play Store for Android users, or the App Store for iPhone users.
The instruction manual supplied will help you get the 770a set up on your app. Essentially all you need to do is scan the QR key card and enter some personal details.
Then you'll be good to go. At the bottom of the review, I'll talk you through the customisable features within the app and a few of the SmartX's other important features.
The ABUS 770a SmartX is one of the first smart bike locks I've used, and it was much easier to operate than I'd initially expected.
If you've decided the SmartX isn't the bike lock for you, have a look at the 8 best bike locks or some more affordable yet secure bike locks,
As always, lock it, or lose it.